4 port tee for RV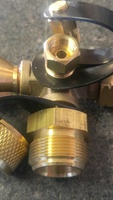 Tee with POL Male inline with POL Female, 1/4" female inverted flare connection on top, disposable tank connection on the side.
Used to connect auxillery Propane tanks to rv/motorhome.
Can be used to hookup auxillery grills and propane accessories to feed off RV/Motorhome.
*Price and availability subject to change without notice.
Back